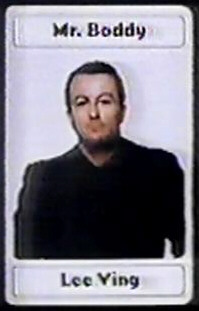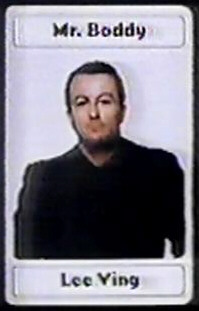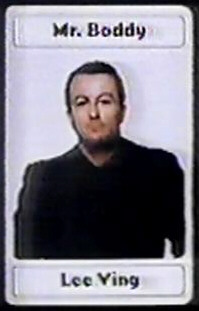 FIND AS MANY HARDCORE CELEBRITIES AS I DID AND WIN YOURSELF A SHINY NEW PONY!
http://www.youtube.com/w/Fear-Live-On-SNL?v=o7Xtpf-ZKXU&search=fear%20SNL
So far I see Sab, Bloodclot, Harley, Tesco and so much more! Oh tell me, oh tell me who you see!
Uh...yeah...
BLUES CONTROL/AWESOME KU-LAIR/PENGO/FAITH HEALERS (?)/STINKY TURNER TELLS ALL!...
So you think you've seen and heard it all as far as overblown abstract heavy rock goes? What? You didn't say that? Oh sorry...it's these new glasses. Make everything sound so blurry. But Blues Control do seem to be on to something in the (uh...um...) 'genre' mentioned above. Sorry to hear you bought that thirty dollar Tetuzi Akiyama album when you could of been blown away by B.C.s' robo boogie for mere pennies via this cassette. Go here and they'll sort you out: --//whitetapes.8m.com/tapes.html
When a fellow came to my New Years' Eve party and was eyeing up my Four Skins collection, I knew I was onto someone who was either going to be a pal or an enemy. Luckily, he just became an acquaintance who sort of remembers my name and he's in a band named Awesome Color. A.C. don't play no bootboy anthems, but they do pull out a pretty muscular brew of Detroit sound/rock action for the pretty people. I am by no stretch of the imagination 'pretty', but I still am allowed to enjoy the sounds and stand there looking like my cat just died while everyone gyrates and such around me. Yah know...Sometimes those pretty people can be SO nice. The only thing I can do is direct you to their 'myspace' page (What the hell is that?) I guess you can catch up with them there and you can talk about how great that bowl of Grape Nuts you ate today was. Once again...'ugh' --http://www.myspace.com/awesomecolor
Rochester's Pengo have carved out a truly unique spot for themselves in the past few years. Live, they can sometimes come off like some manic tribal ritual that would of taken place on the Spahn Ranch right before a creepy crawl. Their recorded output can be a confusing though fulfilling stew of found audio, grey noise clouds and ham fisted guitar wrenching that would send any strong blooded struggler for the Geritol in no time. This double disc set, entitled 'Alchemy and Bullshit', is made up of various live recordings done around their hometown a few years back and it showcases the various forms of dementia this unit is capable of. The first disc is a perfect soundtrack for a late night wander through old newspaper clippings and various forms of mildew found behind the toilet. The boys attempt to cover Blue Oyster Cult, Thin Lizzy, Negative Approach and Organization only to end up sounding like pygmies dropped off in the middle of Sunflower City with only a bamboo shoot and a paper thin guitar pick to fend with. The gem of this disc is the closing 'Official Genius' which meanders through much fog and steam to relieve itself in a way only Captain Beefheart or Ansley Dunbar would find fitting. How quaint. The second disc is made up of shorter pieces of subtle mud slapped guitar crap that'll have ya heavin' in no time. Swap a copy of your Hunger Artist 12" to the fine folks at the Carbon label and maybe they'll throw ya one -- http://www.carbonrecords.com/
When I think of Th' Faith Healers, my mind reels back to a condominium in Newtown, Pennsylvania where a late teen/early twenties buddy lived with his mother. Their debut LP would spin ad infinitum there while bong loads of righteous boo and other narcotics were stupidly consumed. Their cover of 'Mother Sky' made me pester my brother to finally let me borrow all those Can records he'd been going on about for years and I generally consider the disc to be one of the many eye openers in this pointless musical journey I've been on my whole life. Have I listened to it in the past ten years? Of course not. To be honest, I think I might have sold it off years ago. So, hearing this new collection of John Peel sessions (on the BaDaBing! label) at this point in my life has been a strange experience. Lots of cringes and half smiles have been made while listening to it, but that could just be me. There's no doubt Th' Faith Healers were head and shoulders above the many limey contestants in the My Bloody Valentine sweepstakes of the early nineties. Where many were merely trying to collapse under the weight of their pop sensibilities and a junked up surging guitar sound, these chumps still sound like they were not in control of the sounds they were creating. The beefy swirl of Tom Cullinan's guitar sound still packs a wallop as it manages to deteriorate the surroundings of everything surrounding it. And the heave on tracks like 'Get The Fuck Out Of My face' and 'Ooh La La' keep such a tight clench on the U.K. Punk sound of the early eighties, you'd think this shit might of came out on the Riot City or No Future label. Nostalgia is a concoction I never want to taste, so I'm in total denial to the reasoning that this might be the basis on why I enjoy this disc so much. I mean, shit...the last thing I want to re-live is smoking codeine and peeing my pants. Let's just say there's still room in my dark little heart for this and 'Loveless' and 'Dirty' and 'Shoulder Voices' for the mere reason they merged the dissident noise I loved as a young punker with the pop hooks that we all long for in our deepest dreams, no matter how many C.O.C. records we ever owned. End of sermon. Pay as you leave. http://www.badabingrecords.com/
WHY LISTEN TO SOMETHING THAT YOU'RE NOT?--Sometime soon there will be more pointless musing on Universal Indians, Mouthus, Inca Ore, The Allied, Violent Students, Attak, Douglas Bregger, Can't, and more in-depth analysis on the meaning behind many of the Cockney Rejects lyrics...