COLUMBUS OHIOS' VEGETATIVE STATE HAVE BEEN WATCHIN' YOU THROUGH THE WIND-UH!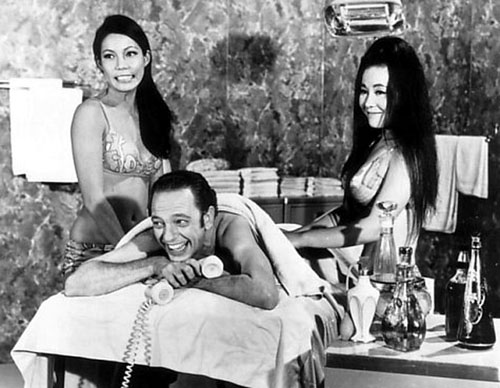 Above -- Vegetative States' spiritual leader receives a happy ending from hot gook gash.
Since those culture vultures over at the Bull Tongue have hepped themselves to Clevelands' Homostupids, the collective we had to find some new young Midwestern Punker necks to sink our tender fangs into. After much perusing of countless distro websites, we settled on this three song single by Columbus' Vegetative State. What made us settle on them you axe? Well, the cover seemed to be a homage to Don Knotts, a sure sign of quality. I just figured, anyone willing to be so blatantly retarded in the graphics department has to have something going on in their musical pants. And as usual, I was right. Reports tell me the cats behind these tunes are of the young and drunken variety and it certainly shows. The two tracks that make up the first side have an inept quality to them that sounds like an early live tape of the Germs or that first Court Martial single played by mentally challenged walruses. The flipside of this single was the thing that made me really sit up and take notice though. It's this long winded Psychedelic Punk mistake entitled 'Laguna Beach Rules'. It sorta lumbers on for awhile in a weird fumbling fog until the guitarist busts out this solo that sounds like it's straight off of 'Kings of Oblivion' or something. Is all this blundering a pose? How can you sound like you failed a tryout for Maniax one minute and then mimic Larry Wallis the next? The record is just this huge, hanging question mark for me. A total mystery item. A total mystery item with a MySpace page…. Oh brother! You can order this sucker for four clams here --
http://profile.myspace.com/index.cfm?fuseaction=user.viewprofile&friendid=21529336
Now someone get me a flea bath...quick...